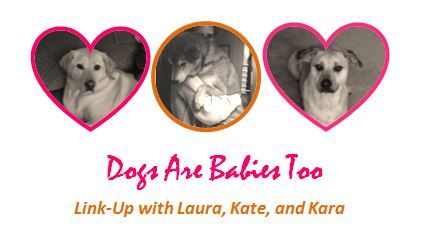 I'm linking up today with
Laura, Kate & Kara today to talk about being a dog Mommy. I know I've posted about him before but I'm not sure if I shared the details. It suffices because it's almost a year since we adopted him (March 16, 2012). We had been living in our house for a year and decided we wanted to adopt a puppy. We already had a kitten and we hoped they'd be friends.

Saro & Tux. He was soooo tiny.

Tux, the kitten.



After searching for a couple months on petfinder.com, we came across a shelter in North Carolina who had a TON of puppies. We found out that they transport the dogs up north, once per month and they come right to your house.
So no, we didn't meet Murphy before we adopted him.
He arrived on a Friday morning (I was working from home that day). Here is a picture from that day:

About 20-25 lbs, 3 months old.
He is a German Shepherd/Collie mix and was found down south, with his brother. They were named George & Kramer by the shelter. Cute, but I have a friend named George so that would have been weird. We decided on Murphy because it was around St. Patrick's Day. This was around 5-6 months old - his one ear was still down lol.
We definitely treat Murphy like a baby. I talk to him as if he's a baby, often using the term "puppy boy",
he
goes to dog camp, etc. He brings so much joy to our lives. We love Tux, too (when he's not biting or scratching people or things - lol) but I find that
dogs have much more of a personality. He listens when we say "sit", "come", "down", etc.

He sleeps on his bed in our bedroom now (not in the crate at night) but is still crated during the day when we are at work. This will probably continue until he's at least two. He's a pretty anxious/nervous dog, so I think he'd act up if we left him loose and went "missing" for 9 hours. Slowly, but surely. We are thinking of leaving him out for an hour or 2, then 3, then 5, until he knows that yes, we left - but we'll be back!
Being a "Mom" is defi
nitely a lot of work. We can't just get up and go somewhere for the night without thinking about what we will do with him, can someone stay with him, can he come along, etc. but we wouldn't change it for the world. Here is a recent picture of him yesterday:

15 months old & 80 lbs.


That's his big ass crate in the background. Kind of an eye sore in our living room but it is what it is... it won't be there forever I hope!
Murphy is NOT allowed on our relatively new couch. At his size and weight, it would get ruined very quickly with him jumping on and off and with those nails - eeek. We aren't high maintenance people BUT we worked hard and saved for that couch before we moved in - ha. He d
oesn't even try to jump on it. Only if the cat is taunting him or if he has to go "potty" and is trying to tell us - he'll try to jump on our laps.
By the way, he and Tux ARE good friends. Sure, Tux swats at him but he's 65 lbs. heavier and much taller! They lay next to each other and "kiss" sometimes.
I love being a Mom to my pets! :)